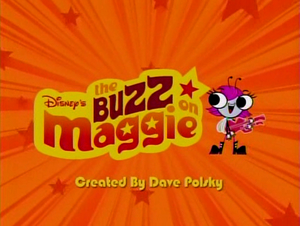 The Buzz on Maggie was an Annie Award-nominated Disney Channel original comedy series created by Dave Polsky and directed by Dave Wasson about the daily lives of flies that debuted in June 17, 2005. The series was broadcast on the Disney Channel but was canceled. The series was nominated for its theme song on the Daytime Emmy in 2006 The Buzz on Maggie completed its run on TV in the USA and was replaced by on its only time slot.
Characters
Edit
Main article: List of characters
Episodes
Edit
Main article: List of episodes
Ad blocker interference detected!
Wikia is a free-to-use site that makes money from advertising. We have a modified experience for viewers using ad blockers

Wikia is not accessible if you've made further modifications. Remove the custom ad blocker rule(s) and the page will load as expected.